Online & Distance Learning
Combining technology with textbooks and printed materials.
Online & Distance Learning
Coastline goes the distance to help you meet your educational goals. At Coastline, you can enroll in college courses that are delivered to your home, worksite or location near your home.
Office Hours
Help getting started with online classes - we're available Monday - Friday, 8:00am - 5:00pm.
Email dlearning@coastline.edu or call (714) 241-6216.
What Is Distance Learning?
Distance Learning combines technology with textbooks and printed materials to bring course content, instructor, and students together. With almost 30 years' experience in distance learning, Coastline offers a variety of college-credit course options to meet your educational needs.
Benefits

The benefits of distance learning include:

Convenient, flexible options for fulfilling degree requirements.
Academically proven, well-produced curriculum developed by college faculty, scholars, practitioners and instructional design specialists.
Opportunity to attain educational/career goals without sacrificing full-time employment or family.
Technology-enhanced learning experience.
Opportunities for K-12 teacher credentialing and salary advance credit.
Programs tailored for highly motivated, committed, goal-oriented learners.
Accessible learning options for students with disabilities.
Course Types
Telecourse/Cable Courses

Students watch professionally produced video lessons made available through a variety of viewing methods, combined with a required textbook, study guide, and course student handbook outlining the requirements of the course and expectations of the instructor. Coursework is submitted via U.S. mail, FAX, or in person. Students are not required to have online access for these courses; however select online components are made available for flexibility and ease. Exams are completed in person, either onsite or through a pre-approved proctor.

Independent Study

Study independently using specially prepared course materials that include reading materials, textbooks, study guides, self-paced assignments and video materials. May also include CD-ROM multimedia materials, Internet access or lab kits. Interact with instructor via phone, FAX or e-mail, watch or listen to pre-recorded review sessions, mail in assignments and quizzes, and take on-site or proctored exams.

Online Courses

Take your course online and work according to the schedule defined by the instructor. Using Coastline's Canvas system, students are able to complete most coursework, including exams, directly online. This varies course to course. Some courses will require students to complete exams in person onsite or through a pre-approved proctor.
New to Distance Learning?
Start Here: CCCD Canvas Login
To find the minimum recommended computer and software requirements for Coastline's online courses, view the following Canvas Help Guides:
Suggestions for Success in Your Course
Information about Proctored Examinations
Dolphin Assistance Program (DAP)
Dolphin Assistance Program (DAP)
Need a wifi hotspot for your online courses? Want to learn about free textbooks?
Submit a Dolphin Assistance Program Resource Request Form.
Basic Needs, under the direction of Student Equity, is here to support your academic success by providing a variety of basic needs resources and services through the Dolphin Assistance Program (DAP).
This DAP Resource Request form takes between 3 to 7 minutes to complete, depending on what your needs are. You can use this form to request:
Book Voucher
Book Borrowing
Technology Assistance
How to View Telecourse/Cable Videos
There are several ways to view Coastline's telecourse and cable TV course videos:
Online through each course website in Canvas
DVDs available for purchase from our bookstore
Spectrum (formerly Time Warner Cable) - email Distance Learning for the broadcast schedule
At a viewing center on campus (see below)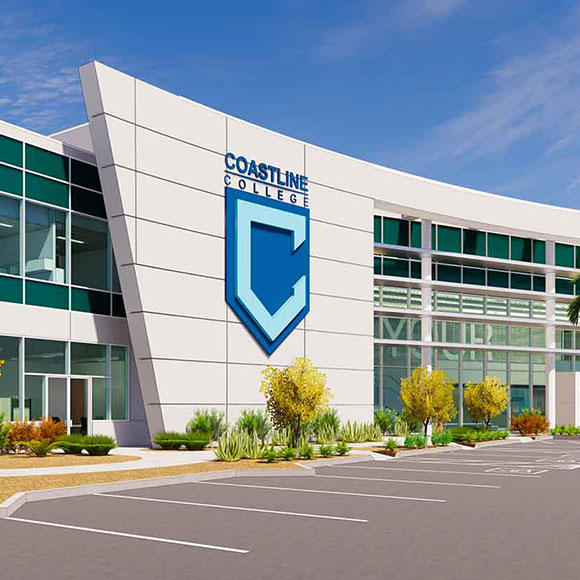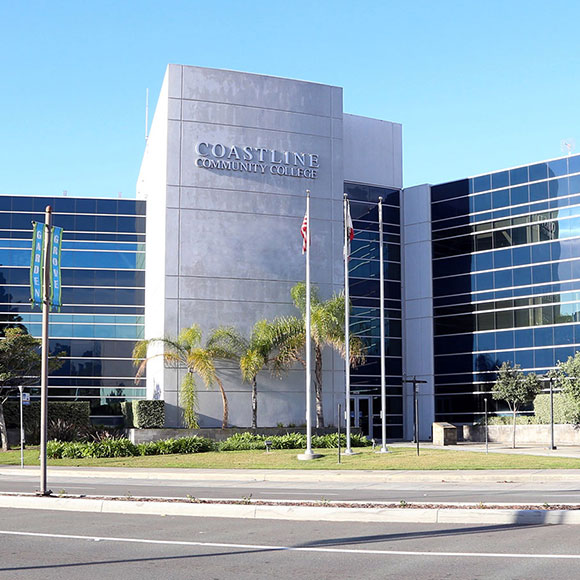 Coastline Recognized as a Top College for Online Learning
Here are a few of Coastline's accolades:
Coastline College ranked #1 top leader in online education by Value Colleges.
OnlineAssociatesDegree.org - #1 Associate in Accounting Online degree nationwide.
Ranked one of the best online Associate in Human Services degree programs nationwide by TheBestSchools.org.
AffordableCollegesOnline.org voted Coastline the Best in Online Business Programs, Online History Programs, Online Psychology Programs, and Online Colleges That Offer Laptops.
AccreditedSchoolsOnline.org recognized Coastline as one of the best colleges offering online learning in the nation for online Associate and Certificate programs by the Community for Accredited Online Schools.
Consensus College - ranked #4 nationwide for best online community colleges.
What Our Students are Saying
"My experience and now work in higher education... has only strengthened my belief in the power of distance education to provide equal access to education for all individuals, regardless of their location. It is with great appreciation and enthusiasm that I am writing... to express my belief in the value of online education at Coastline College. Thank you for providing such a valuable and innovative distance learning program that has had such a profound impact on my life and career direction." -Tyler, Coastline Graduate
*Students that live in the following states and districts cannot take Coastline courses: Arkansas, Delaware, Minnesota, New Mexico, Oregon, Rhode Island, and Washington DC.
https://coastline.studentadvisor.ai/virtualadvisor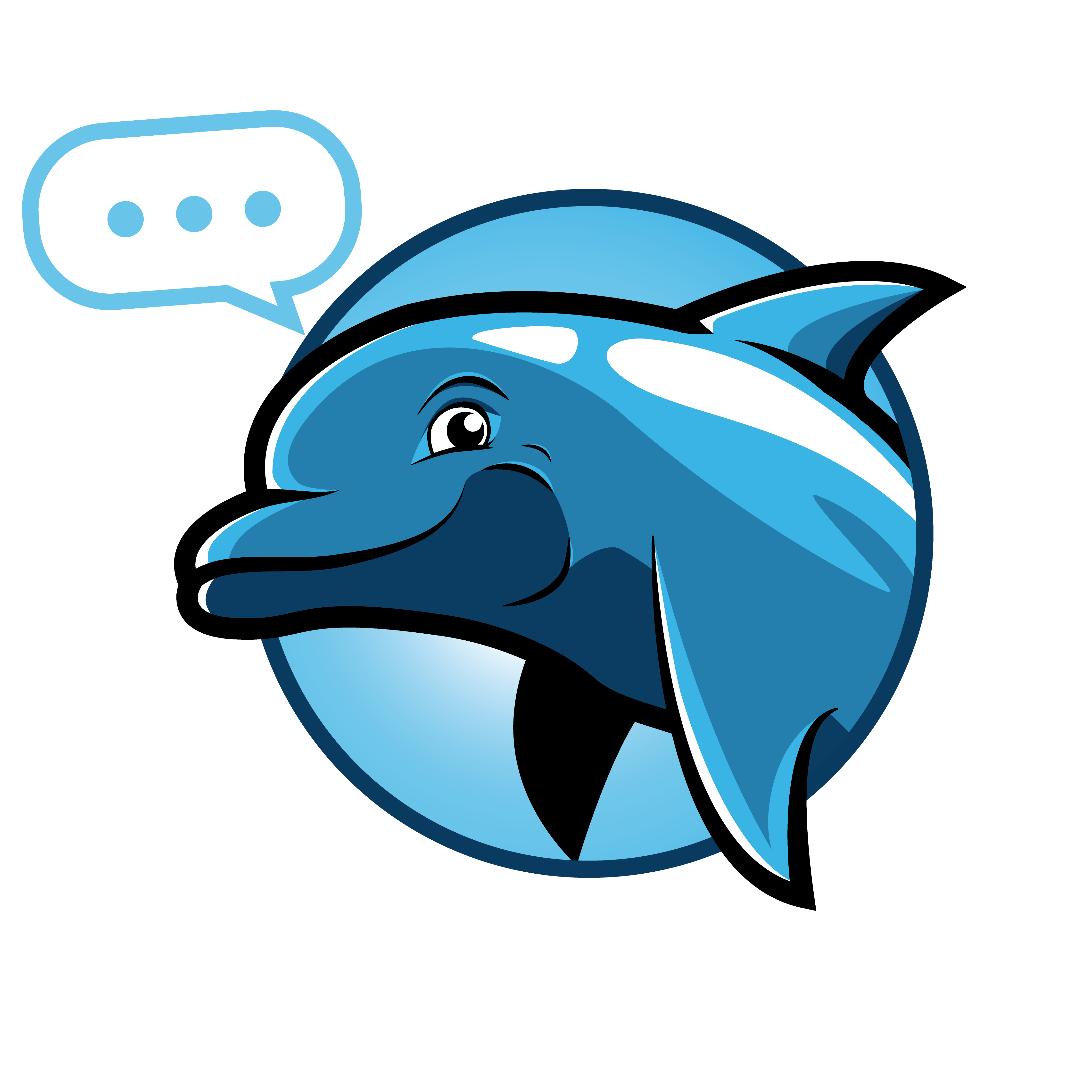 Online & Distance Learning
Get In Touch
Distance Learning Department
Student Services Center in Fountain Valley
Mon - Fri, 8am - 5pm
P: 714.241.6216
F: 714.241.6287