Welcome Admitted Students
Find out what's next, Coastliner.
Newly Admitted
Congratulations! You've been admitted to Coastline. What's next?
Start Here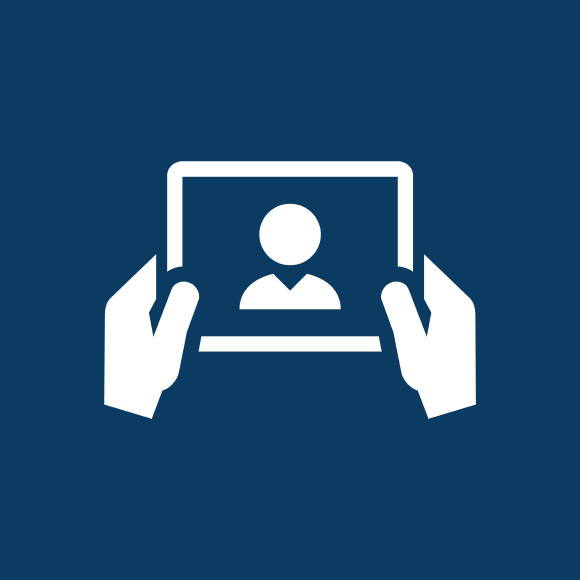 All new Coastline students are required to participate in an online orientation session.

Schedule a Counseling Appointment
Schedule a Counseling Appointment
You can schedule a counseling appointment by emailing counselingdept@coastline.edu or by calling (714) 241-6162. Please include your name, student ID, major, as well as the days and times that work best for you.
Next Steps
Frequently Asked Questions
Who can I contact?

Info Center

Coastline's virtual Info Center can provide information in regard to:

General information about Coastline
Financial Aid, Counseling, Assessment, Special Services
Application and registration issues
Events
Campus Security

Email infocenter@coastline.edu or call (714) 546-7600.

How will Coastline contact me?

E-mail Communication

Coastline College is making every effort to communicate with students by sending correspondence through e-mail. We advise you to check your e-mail account often, as the information we may send will often be time-sensitive.

If your email address is incorrect you will not receive a confirmation of your application or instructions as to what you need to do to complete the admissions process. Some Internet Service Providers filter mail from Coastline College so please check your trash folder if you don't receive an email response within 5 - 10 working days of submitting your application.

Tip: You can avoid this by adding CCCAdmissionsOffice@coastline.edu to your Friendly Approved Senders list and please do not reply to CCCAdmissionsOffice@coastline.edu. This is especially important if you use providers such as AOL, Yahoo, Earthlink, MSN, Hotmail, or Roadrunner and/or you use spam filters.

If you have any further questions regarding your application, please call (714) 241-6176.

Thank you for making Coastline College your college of choice for your higher education. We hope your experience at Coastline is rewarding, accommodating and student-friendly.
Now Open for Fall Registration
Now Open for Fall Registration
Coastline College has long been recognized to effectively deliver innovative hybrid and online instruction while employing a digital learning environment.
Coastline ONLINE - Students have the flexibility of working on their coursework on days and times which are convenient for them and are not required to be online or at any location at a specific time or date.
Coastline LIVEONLINE - Students are required to attend class sessions online on the days and times listed in the schedule of classes.
Face-to-Face - The College only has a few classes which will meet on campus (mostly science labs).
Check out our schedule of classes and read more about admissions information. For additional info on available courses, fees and registration, contact the Coastline Admissions Office.
Connect with Us
Check out the Sandbox
Coastline's Weekly Newsletter
Keep up with what's happening at Coastline each week by signing up for our newsletter, The Sandbox. Get the details on upcoming events, registration reminders, new gear at The Pier, and much more!
Related Pages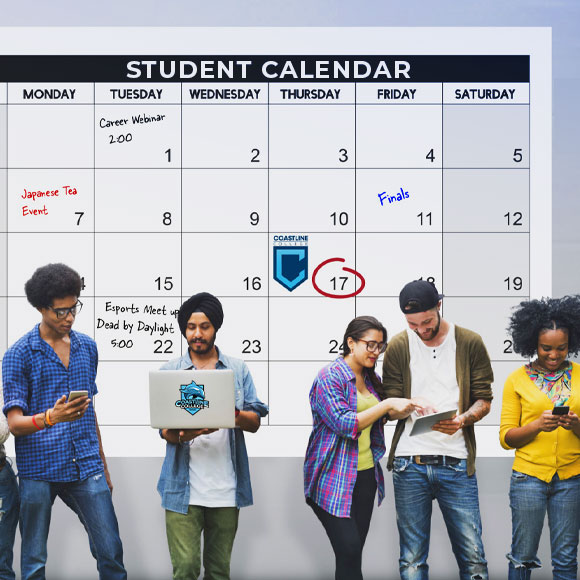 Student Calendar
View important academic dates along with student events - workshops, online and in-person gatherings, info sessions - and ways to get involved.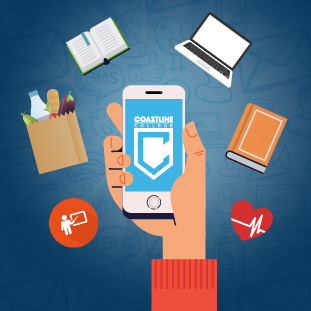 Student Services
Resources to make sure you can continue school no matter the challenge: counseling, technology, health care, disability accommodations, and more.